Despite the best intentions of the federal government and provincial legislators, disability discrimination is still causing too many Canadians to be excluded from the basic necessities of life.
If you are facing unfair and discriminatory challenges at work, speak with an employment and disability lawyer immediately to protect your rights.
Disclaimer: The information in this guide and everywhere else on this website is for general information only and is not intended to provide legal advice of any kind. No lawyer-client relationship is created by accessing or otherwise using Ertl Lawyers' website or by communicating with a lawyer or staff member. If you need legal advice, contact one of the leading long-term disability lawyers in Toronto at Ertl Lawyers. We're more than happy to speak with you.
Examples of Disability Discrimination in the Workplace
Disability discrimination in the workplace can exist in many different forms and can manifest itself in a variety of ways. It typically occurs when companies purposefully exclude people with disabilities from jobs and job prospects.
A common example of this is when returning to work after disability leave, a disabled employee is placed on modified duties. Despite their doctor's clearance to return to full-time work, the employer places them in a lower-paying, part-time position due to incorrect assumptions that the employee could not withstand the pressures of their job and that their performance would be unreliable due to their previous medical condition.
Disability discrimination can also occur when companies refuse to provide benefits that are accessible to others or impose additional responsibilities that are not put on others without a valid reason. It is frequently motivated by unfavourable views, stereotypes, and bias.
Discrimination against people with disabilities in the workplace can also occur "indirectly." It can be done by either an individual or the organization itself.
For example, an employer indirectly discriminates by ordering a staffing firm to exclude people with common disabling conditions from the hiring process.
People who are affiliated with disabled people are also legally protected from prejudice and abuse. This often includes family members, acquaintances, or advocates.
Discrimination is usually subtle and only apparent to the discriminated party. Openly discriminatory comments are seldom stated explicitly. Subtle types of discrimination are typically detectable by analyzing the big picture of a series of behaviours on the whole and finding a common pattern. Each single instance can be explained away or go unnoticed, but put together; these behaviours may lead to an inference of disability discrimination in the workplace that violates several employment statutes.
Discriminatory situations also occur "adversely" – when rules, standards, policies, practices or requirements that appear fair and neutral negatively impact people with disabilities.
For example, employers often refuse to hire candidates with "gaps" in their resumes assuming performance or motivational issues. This practice discriminates against people who have had to take time off work for reasons related to a disability.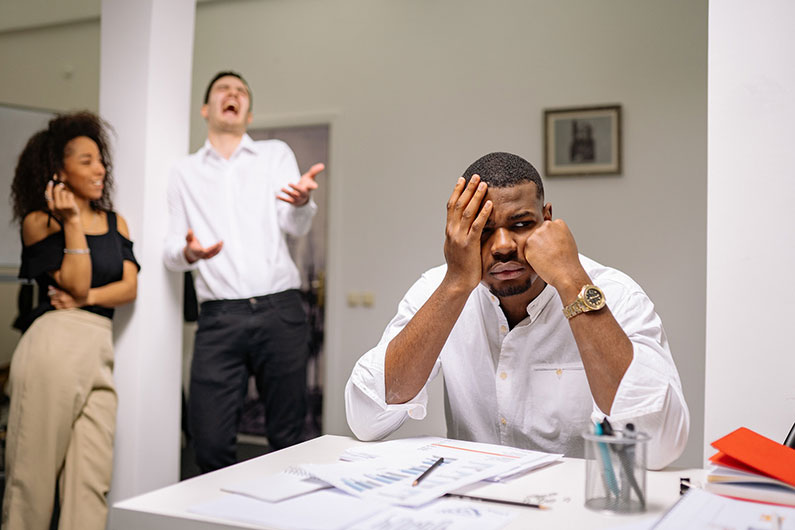 Workplace Harassment and Disability Discrimination
Harassment is when someone repeatedly does or says something distressing or annoying based on a person's disability, knowing (or they ought reasonably to know) that it is unwelcome.
For example, the Ontario Court of Appeal found that an employer subjected a woman who had suddenly lost her hearing to a "campaign of abuse," including belittling, harassment, and isolation related to her disability. The employer took specific steps to increase the difficulties she faced due to her hearing loss, and she was denied any accommodation for her disability. The Court awarded damages for breach of the Ontario Human Rights Code.
Harassment based on disability can include:
slurs, name-calling, or negative nicknames,
offensive graffiti or images that depict people with disabilities negatively,
ridiculing people because of disability-related characteristics,
intrusive questioning or remarks about a person's disability, medication, treatment, or accommodation needs.
When Harassment Leads to a Poisoned Workplace
A poisoned environment may be created when unwelcome comments or conduct are widespread in a workplace, causing a hostile or oppressive atmosphere for one or more people from a Code-protected group.
Even a single remark or action can be serious enough to create a poisoned environment, despite the definition of harassment referring to repeated incidents. For example, if a manager denies an employee with chronic back pain the necessary paperwork for short-term disability leave and accuses them of faking their condition, it could constitute a poisoned work environment due to disability.
Systemic Disability Discrimination
Systemic or institutional discrimination is created by attitudes, behaviours, policies, or practices that are inherent in the social or administrative structures of an organization or sector and that disadvantage people with disabilities. While these policies may appear to be neutral, they can still have a harmful impact on people with disabilities.
Reprisals
A person cannot be punished or threatened with punishment for trying to enforce their rights under the Code. This would be considered a reprisal.
For example, a man experienced reprisal when his employer abruptly terminated his employment due to his dissatisfaction with the accommodations he was providing for the employee's disability-related needs and his attempt to deal with alleged harassment.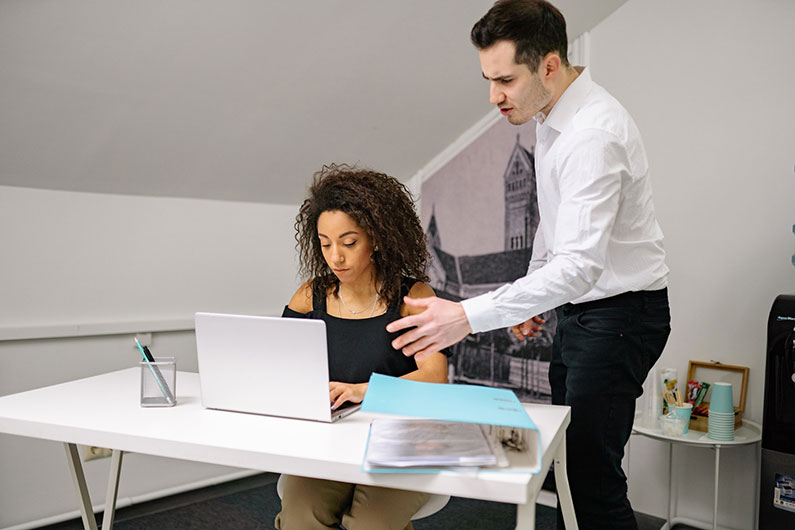 Canadian Laws Aimed at Eliminating Disability Discrimination
The following statutes are some of the more recognized accessibility laws in Canada and were created to improve accessibility for all Canadians in the workplace.
The Canadian Human Rights Act (CHRA) is a federal law designed to prevent discrimination based on various grounds, which is common to all discrimination laws. Its main objective is to protect Canadians from discrimination in employment and while receiving services from the federal government, First Nations governments or industries regulated by the federal government, such as banks, telecommunication companies, transportation providers, and broadcasters.
The Accessible Canada Act (ACA), another federal law, regulates organizations that fall under federal jurisdiction to create a barrier-free Canada for persons with disabilities. The ACA sets accessibility standards in areas such as employment, transportation, and built environments, requiring employers and service providers to accommodate the needs of individuals with disabilities. This involves proactive measures such as identifying and removing barriers that prevent people with disabilities from accessing employment or services, creating accessibility plans, implementing feedback processes, and evaluating progress reports.
The Ontario Human Rights Code (OHRC), a provincial law, prohibits discrimination on several grounds, including race, ancestry, colour, ethnic origin, citizenship, creed, sex, sexual orientation, gender identity, gender expression, age, marital status, family status, and disability. The OHRC aims to ensure equal opportunities for all individuals in accessing employment, services, and facilities while providing a platform for complaint hearings where fines can be imposed against violators, and complainants can be awarded compensatory damages.
The Accessibility for Ontarians with Disabilities Act (AODA) is a provincial law aimed at establishing a barrier-free Ontario for individuals with disabilities. This legislation, similar to the federal ACA, sets standards for accessibility in five key areas, which include customer service, employment, information and communications, transportation, and the built environment. Organizations are obligated to undertake proactive measures to ensure accessibility, including the development of accessibility policies, provision of accessibility training, and removal of any impediments that prevent individuals with disabilities from accessing services.
These and other federal and provincial laws in Canada that aim to prevent discrimination based on various grounds, require organizations to take proactive measures to accommodate the needs of individuals with disabilities and remove barriers that prevent them from accessing services.
Addressing Workplace Disability Discrimination Through An Employre's Duty to Accommodate
The duty to accommodate refers to the obligation imposed on public and private organizations, such as employers, service providers, housing providers, and unions, to modify policies, practices, and rules to enable the full participation of individuals who face barriers due to their status.
However, employers may not be able to accommodate employees without causing undue hardship, which refers to significant difficulty or expense that would render accommodation unreasonable. Employers have the burden of proof to demonstrate that accommodation would result in undue hardship. Factors that may be considered to determine whether undue hardship exists include the cost of accommodation, its impact on the employer's operations, safety concerns, and the size of the business.