One of the many things the COVID-19 pandemic made crystal clear, if it wasn't already, is that our health is often out of our control. Be it mental or physical, illnesses and injuries are mostly unexpected and can completely disrupt our lives, especially conditions that are severe enough to prevent us from being able to work. If you're fortunate enough to have short- or long-term disability (LTD) insurance coverage, it includes benefits that provide financial support that partially replaces lost wages while you are unable to work. If you're not covered by an LTD policy, there are similar government-sponsored benefits available.
If, like most people, you haven't applied for long-term disability benefits before, the application process can seem intimidating and confusing. Learn how to apply for long-term disability in Ontario, what to do if your claim is denied (as routinely happens), the importance of contacting a long-term disability lawyer at some point during the application process and available government programs if you don't have LTD coverage.
Disclaimer: The information in this guide and everywhere else on this website is for general information only and is not intended to provide legal advice of any kind. No lawyer-client relationship is created by accessing or otherwise using Ertl Lawyers' website or by communicating with a lawyer or staff member. If you need legal advice, contact one of Ontario's leading employment and disability lawyers at Ertl Lawyers. We're more than happy to speak with you.
Make Sure You Qualify Before Applying for Long-Term Disability Benefits
If you ever have questions about the types of medical conditions that are eligible for LTD benefits, how to apply for long-term disability, the differences between long-term vs short-term disability or any related issues, always check your policy. Contact your insurance company or schedule a free consultation with a disability lawyer if you're unsure about the answers to your questions.
After you've been diagnosed with a medical condition that prevents you from being able to substantially complete your job functions at work (often referred to in an insurance policy as being 'totally disabled'), the first step is to check your policy to ensure that your condition is covered and to learn about the claims process.
Generally speaking, most medical conditions that prevent you from completing the main duties of your current job are covered by a short- and/or long-term disability plan unless they are specifically excluded in the policy.
You must also be disabled and off work for what your insurance company might call an "elimination period" or "waiting period" – a length of time that can be anywhere from 12 to 52 weeks (or longer) before you can be approved for long-term disability benefits.
Speak With Your Doctor About Applying for Long-Term Disability
If you're still disabled as you reach the end of the waiting period, speak to your treating physician about their prognosis of your condition, i.e., how likely it is for you to recover and how long it will take. If they feel that you are unable to, or should not, perform your specific work tasks, they will likely support your decision to apply for long-term disability benefits. This is crucial because if your treating physician does not believe this, your LTD claim will likely be denied.
Completing and Filing an Application for Long-term Disability Benefits
If you've already been receiving short-term disability benefits, your insurance company may automatically begin considering a claim for long-term disability, or they may require you to submit an update from your physician or complete an LTD application package.
Regardless, the first step in applying for long-term disability benefits is to obtain and complete the application package. It may be available at your workplace or online through your employee work portal, company website or the insurance company's site.
An application for long-term disability usually has three parts to it: a section for you to fill out, a physician's statement for your doctor to complete and a portion your employer must complete.
Long-Term Disability Application Packages – Employee/Insured Statement
In this section, you will provide information about your medical condition, including:
When it began, how it has progressed and when were you unable to continue working.
A detailed description of the symptoms. Describe what you experience, how they affect you mentally and physically, how long the symptoms last and how frequently they occur. It's helpful to keep a journal and write about your experiences as they occur.
Your medical history and if you've had this condition or experienced these symptoms in the past.
Information regarding your treatment, medications, rehabilitation and a summary of the doctors you've seen and the hospitals, clinics and doctor's offices you've visited.
You will also likely have to provide information about your training and education, your current job, the type of work you do, your tasks and how this disability is preventing you from completing those tasks. It's crucial to provide honest, detailed answers to these questions, as this is essentially the criteria for eligibility when it comes to long-term disability benefits.
Long-Term Disability Application Packages – Physicians Statement
Your treating physician must also provide a statement regarding your condition. It's best to schedule an appointment with them solely for this purpose so you have enough time to discuss the information they provide and so that your doctor can ask you specific questions as they complete the form.
Your doctor will likely have to provide information about the following:
The date you first met with them regarding this condition.
Their diagnosis, a description of your symptoms and their observations.
A description of your restrictions and limitations.
Any completed tests or imaging and any that are currently outstanding.
Their recommended treatment plan, the prognosis for your recovery and any factors that could delay or harm your recovery.
How you've responded to the treatment and how well you've complied with their treatment plan.
When you will be able to return to work and whether you could do so with employer-provided accommodations like special equipment or modified duties and/or hours.
It's crucial that your doctor clearly explains how your condition specifically restricts you from the physical and/or mental requirements of each of your main job functions and include all clinical documentation, tests and images that support that opinion if available.
Long-Term Disability Application Packages – Employer's Statement
Your employer must also complete a section of your long-term disability application. The insurance company needs to establish when you first became eligible for coverage and other information, such as:
Your job title and specific duties.
The number of hours you work in an average pay period and your earnings.
The date you last worked.
Whether you were provided accommodations or modified work before you began your disability leave.
If there were any performance concerns or workplace conflicts that occurred before your disability leave.
Your employer may be asked to send their statement to the insurance company directly. If you are able to, review their statement before it's submitted and have them correct any inaccurate information.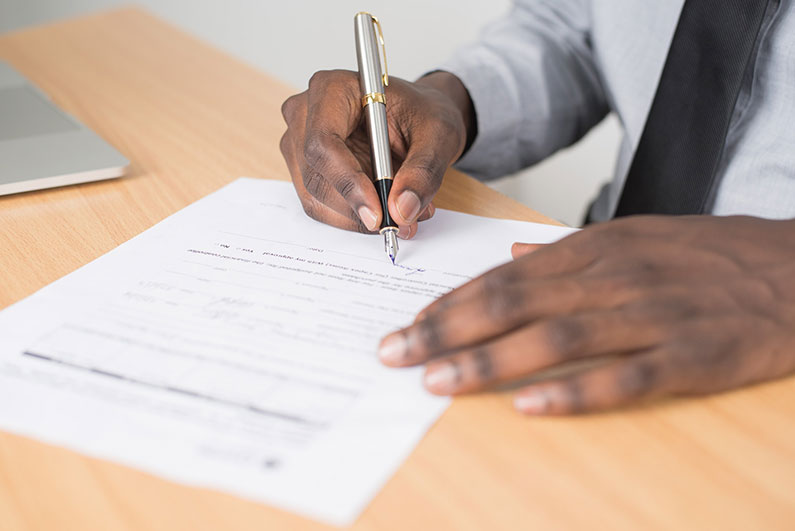 Submitting Your Application for Long-Term Disability and Responding to Insurance Company Requests
Once the sections of the LTD application that you are submitting are completed, attach them to any supporting medical or non-medical documentation and submit the package according to the instructions provided in the application.
If you're still waiting for tests, specialist reports or other medical documentation, you can wait for them before submitting the application, or include a letter notifying the insurance company of the expected documentation and submit it right away. Most LTD policies only allow a specific amount of time for you to submit your claim after you first became disabled. They will deny a claim filed after that deadline.
When the insurance company receives your application for long-term disability benefits, they will assign a case manager to your file. The case manager will call you about your claim and record the call. During this interview, they will ask you questions about your disability and your work and use your answers to assess whether or not you qualify for long-term disability.
After this interview, you may be asked to attend an "independent medical examination" (IME) to be assessed by the insurance company. This examination is done by a medical professional chosen by the insurance company to evaluate your disability from an 'objective' standpoint.
If you don't attend the IME or comply with any requests they make (e.g., if they ask for further documentation), your claim will most likely be denied.
After they've received all the information they need, the insurance company can take anywhere from 30 to 90 days to come to a decision. You will receive a letter notifying you that your claim is either approved or denied. If it's approved, the letter will contain instructions on what you need to do to start receiving your benefits.
If your claim is denied, the letter should give a reason for the denial and provide instructions on how to appeal the decision.
What to do if Your Long-Term Disability Application is Denied
There are three crucial things to keep in mind if an LTD claim gets denied:
Insurance companies regularly deny legitimate claims for long-term disability benefits.
They use the same reasons for why long-term disability claims get denied, making it seem as though you do not qualify for long-term disability benefits.
Do not get discouraged; long-term disability lawyers routinely get their clients the compensation they're entitled to, despite what the insurance company says in the denial letter.
If your long-term disability application is denied, speak to a disability lawyer right away. Appealing an LTD denial is often a waste of time. You only have two years from the date on the denial letter for your LTD lawyer to get the evidence you need from doctors and specialists and put together a legal claim against the insurance company that forces them to pay you fair compensation.